Yesterday, Instagram caught fire when Terry ThaRapMan, his sister Joy and ex-girlfriend of Ikechukwu, Sarah Ofili ganged up to throw shots at Ikechukwu calling him out for talking snack about their family. Joy was the ring leader as he told him to keep her brother's name off his lips. Terry ThaRapMan had a lot to say as well and Sarah told him it was on.
We all didn't know what actually happened however the interview they were talking about was the one the rapper did with Osagie Alonge, Steve Dede and Ayomide Tayo on their 'Loose Talk' podcast on Monday.
In the interview, Ikechukwu goes down memory lane discussing living in New York, returning to Nigeria to dominate the Hip-Hop scene with Storm Records, his 3 albums, working with Don Jazzy, D'banj and dating Sarah Ofili. He also mentioned his encounter with Ruggedman, how he met Mode 9 and how Konga called himself a money making machine without making money.
READ ALSO: #Drama: Between Sarah Ofili, Terry Tha Rapman, His Sis, Joy And Ikechukwu
Things get messy when he starts to talk about his ex-fiancee (around the 2-hour 17-minute mark) and how she left him to go back to Terry tha Rapman even though Terry tha Rapman was still up and coming. He admits that he doesn't know if she and Terry tha Rapman messed around while they were still dating or even before they started dating.
READ ALSO: LMAO! Singer Ikechukwu Is So Petty, Check Out His Response To Sarah Ofili's Drama
According to him, Sarah Ofili wanted the limelight with him but decided to go for an "up and coming" rapper who still doesn't have an album.
Listen below.

Reacting to the podcast, Sarah Ofili went on Instagram to say that Ikechukwu was drunk while doing the interview and that she doesn't understand how after four years he wakes up one morning to start digging all this up.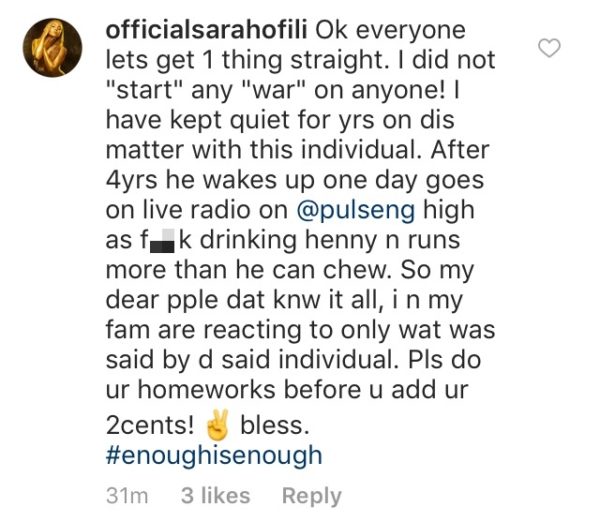 Podcast Source: Pulse